Over the next few months, Next Step will explore the intersection of housing and the climate crisis in a new blog series.
The Need for Energy-Efficiency in Our Homes
The typical American household spends a little over $2,000 per year in utility costs. Nearly half of this goes toward heating and cooling costs. Roughly 12 percent is spent on appliances (refrigerator, washer, dryer, dishwasher, etc.), and another 18 percent is spent on household electronics (computers, e-readers, televisions, game consoles, etc.).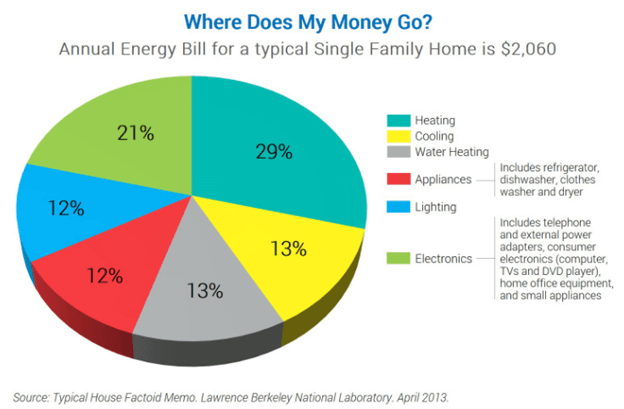 For some individuals and families, these utility costs can be a burden on monthly finances. Low-income households spend a larger portion of their income on home energy costs than others (roughly three times). This "energy burden" force homeowners to make difficult choices in paying for their utility bills over food, childcare, medicine, and other vital necessities. Further, if your home is not energy-efficient, utility costs can skyrocket, even doubling the amount an average consumer would spend for a more energy-efficient home.
The location of your home factors into the cost of your utilities. For example, you'll use more air conditioning in Texas or Florida and more heating in Minnesota or Alaska. Some states have higher utility costs in general. The size of your home also factors into the potential utility costs, as it is less expensive for a 1,500 sq. ft. home than a 2,500 sq. ft. home.
Luckily, prospective homebuyers can make a smart investment in their home's energy efficiency!
Saving Money with ENERGY STAR
As we learned in our previous blog post, a manufactured home can be wholly certified as ENERGY STAR. Increased energy-efficiency helps increase value – and upgrading to a more energy-efficient home package can be a powerful investment. Combined with ENERGY STAR home products (appliances, windows, lightbulbs, etc.) a home meeting these standard uses about 35 percent less energy than a typical home. With the average household paying $2,060 in annual utilities, an ENERGY STAR home can save you $720 per year.
What could you do with an extra $720 a year? Go on a vacation? Make team sports available to your children? Use it toward dental care, eyeglasses, or health care costs? It's easy to see how investing in energy efficiency can pay off for you and your family.
Single-family, multifamily, and factory-built homes can only earn the ENERGY STAR label if they meet the robust requirements for energy efficiency. According to EnergyStar.gov, "these requirements are customized for each housing type and tailored to the specific climate where the home is built. Today, the nation's twenty largest home builders all construct ENERGY STAR certified homes."
ENERGY STAR In Action: The Woody Family
The Woody family was previously renting, and their situation was unsustainable. Their monthly utility bills ballooned to between $300 and $400, and their rent put an extreme burden on their finances.
Learn how an ENERGY STAR manufactured home helped drop their monthly utility bills to just $80 per month!
---
Read next month's entry in our blog series to learn how more efficient homes are better for the environment.