2019 2019 2019
From our President and Board Chair
Dear Next Step Partners and Supporters,
Wow.
Ten years ago I founded Next Step, and we have come so far in a short span of time. From humble beginnings in the foothills of Appalachia, we've helped thousands of families in communities across the country by creating a path to sustainable, affordable homeownership.
Along the way, our work has evolved. We initially set out to increase the number of ENERGY STAR®-rated homes in the Commonwealth of Kentucky (mission accomplished by the way) while replacing aging mobile homes harmful to both the environment and residents' health. Today, we're on the leading edge of creating more affordable housing through community development efforts with factory-built homes. We're providing the tools that allow for housing counselors and their clients to make smart decisions when choosing a home. We're advocating for policies that broaden access to housing choice for more low- and moderate-income families.
As we take this opportunity to reflect on Next Step's impact in 2020, it's impossible isolate our work from the fundamentally transformative events of this past year.
The spread of COVID-19 has altered our global landscape. Cherished beliefs have been challenged, and the future impact of this pandemic remains uncertain. We do know that it is already compounding a deepening housing crisis. Even as we inch closer toward a sense of normalcy, the economic recovery has been uneven – adversely impacting low- and moderate-income households.
Then came the murder of George Floyd in the streets of Minneapolis. In one horrible moment, Americans from all backgrounds were shocked into consciousness. For too long, the issues brought to light this past summer have been ignored – swept under the rug by citizens and leaders unable or unwilling to face simple truths. Now is a time for action. Silence is no longer an option.
Investment in housing is part of the holistic solution to meeting these challenges. As Next Step looks to the next five years, we're seeking to not just be reactionary. Rather, we are investing deeply in finding solutions to the root causes that have led us to where we are today. With these challenges in mind, I am proud of the twelve leading social entrepreneurs participating in the second edition of the Dela Program, a program partnership between Ashoka and IKEA Social Entrepreneurship. As a part of this program, the entire team at Next Step is examining our work through a Systems Change lens – addressing the root problems of housing unaffordability and inequity.
We invite you to be a part of our systems change journey.
This past year has served as a challenge for America. We've faced a global pandemic, an economic crisis, and a reckoning of decades-long mistreatment and abuse of individuals and communities of color. 2020 has tested us, and forced us to confront the roots of what ails our country. However, I believe that this year has also been the start of a new era in America. One where we – collectively – will address our most pressing problems, including housing.
By embracing factory-built housing as a key part of the affordable housing solution, communities can not only solve their own housing challenges, but serve as a laboratory for potential changes to the broader housing market that can scale and address the need nationwide. With leadership, focused investment, and sound policy, we can build a national housing production strategy that exponentially increases housing supply and encourages more diverse and healthier communities.
Our network's work is impossible without our supporters. Your contribution furthers our mission of putting sustainable homeownership within reach of everyone. We invite you to make a donation to Next Step here.
Let's come together now and build the foundations for the future of better housing – and make housing work for everyone.
Sincerely,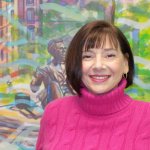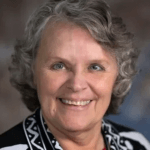 Farewell Address from Chris Nicely
Dear Next Step Partners and Supporters,
I have been blessed to be part of Next Step's extraordinary journey. I've worked with incredible people who have helped me become who I am today.
My career has been energized by so many, but the past six years have been special. My work with Stacey and the team at Next Step helped me see what needs to be done, what can be done – and I believe.
The need for affordable housing in our country is greater than ever. The role of off-site-built homes has never been more relevant. While stepping back from daily activities at Next Step, I will remain active in the struggle to increase homeownership. Not only is there an opportunity for factory-built housing to play a role, but it's also vital to a positive outcome, and the continuance of the American Dream.
I will be engaged locally in determining my role as a potential developer partner – using our product. I remain committed and will be engaged nationally, alongside others who have the same vision and seek to make a positive impact. Outside of this work, I will also be publishing a note card series – due out August 2021 – with original artwork titled "Where God Lives."
So, while I am stepping back from my duties at Next Step, I am not stepping out.
Our paths will continue to cross many times in the future, and I look forward to learning even more from you all and doing something truly special. I am forever in your debt.
Best Regards,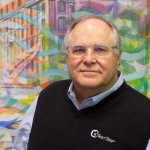 Our Work in 2020
Expanding our Impact –
In fall 2020, Next Step was selected as one of 12 organizations to participate in the second edition of the Dela Program, a program partnership between Ashoka and IKEA Social Entrepreneurship. The program pairs each organization with a team of advisors and business leaders to apply a systems change lens to their work, thinking about the root causes of an issue area – as opposed to treating the symptoms. We are excited that this work will continue into 2021, and to leverage the ideology of systems change to our new Five-Year Vision.
Learn more about Next Step's participation in the Dela Program here.
Creating Opportunities with Down Payment Assistance –
Buying a home has for so long been a key ingredient in the American Dream. However, a lack of supply and skyrocketing prices put homeownership out of reach for so many hardworking individuals and families.
One way to remedy this is down payment assistance (DPA) – money made available for prospective home buyers from programs designed to help foster successful homeownership. But is downpayment assistance available for those interested in buying a manufactured home? We at Next Step have sought to answer that question with our new Down Payment Seeker™ tool. Powered by our partners at Down Payment Resource®, Next Step's Down Payment Seeker is a Web-based tool – hosted on our website – that identifies programs across the country that allow for down payment assistance to be used when purchasing a manufactured home.
Our hope is that combining the built-in affordability of manufactured homes and the prospect of DPA for that home purchase will allow for more individuals and families to successfully purchase a home of their own. Check out Next Step's Down Payment Seeker tool here.
Housing and Community Development –
Next Step – in partnership with the City of Danville and the Virginia Housing Development Authority (VHDA) – are bringing new manufactured homes to the city in hopes of increasing affordable homeownership opportunities! These are CrossMod homes – a new class of homes identified by the Manufactured Housing Institute – that qualify for new financing options from Freddie Mac and Fannie Mae.
We're seeing exciting opportunities across the country with these new class of homes, that will allow developers to build affordable homes more quickly and efficiently. Check out this great article on the project, and this blog post from Virginia Community Capital!
Responding to the COVID-19 Pandemic –
COVID-19 has been not only a public health crisis, but an economic one as well. To help support those individuals and families impacted by the pandemic, Next Step published our COVID-19 Homeowner Resource Guide. The guide includes helpful links and information for those having difficulty making their home loan or other monthly payments to lender(s).
You can download the full resource guide here, and we encourage you to share this resource if your clients need financial assistance.
By the Numbers: 2020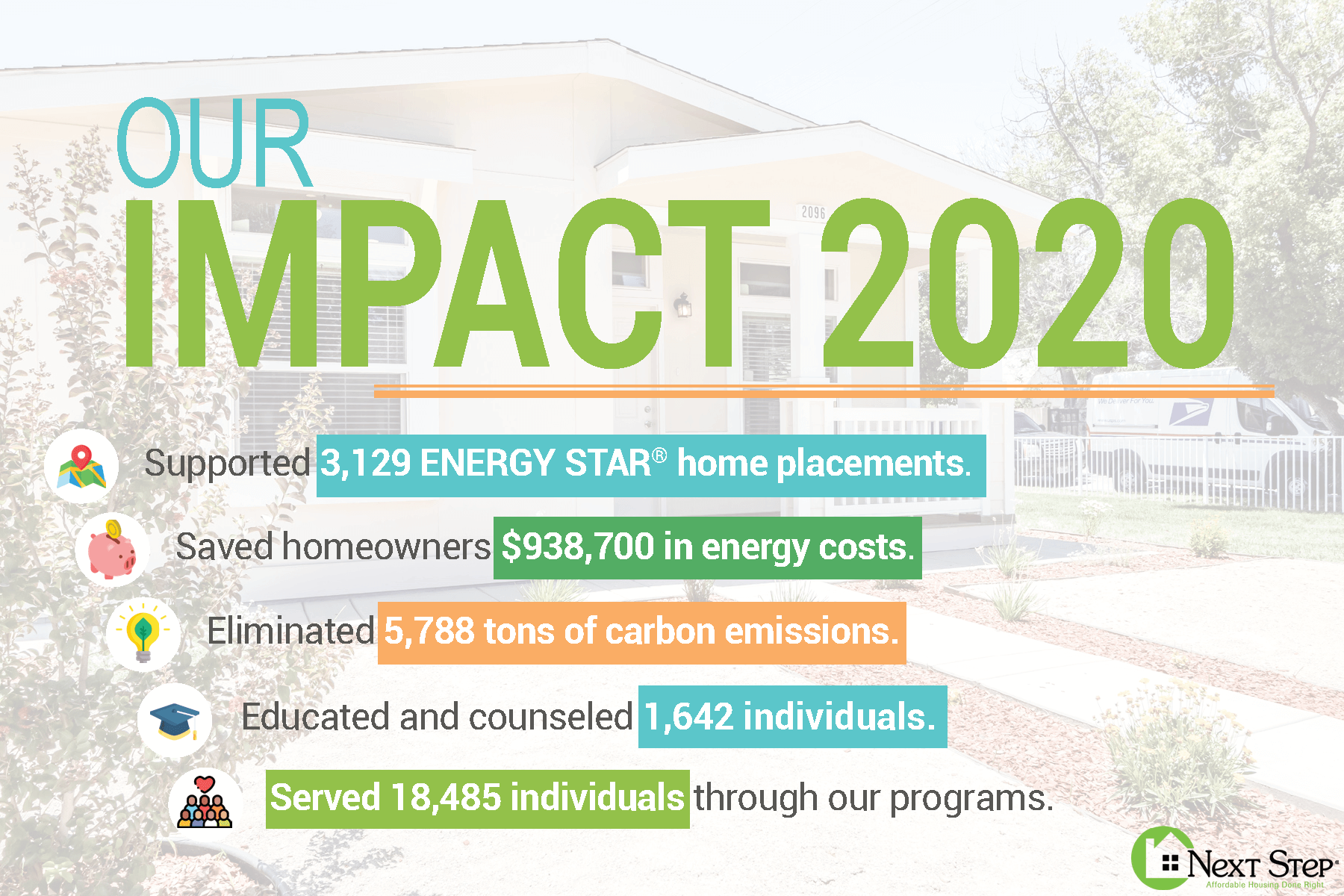 Hear from our Members
Architect Bruce B. Tolar, PA
"In 2005, when Hurricane Katrina created an instant housing supply crisis in Mississippi and Louisiana, our design team became convinced that factory-built homes could play a crucial role in the region's recovery – not only as temporary housing for those displaced by the storm, but also as building blocks for safer, more affordable neighborhoods. Until we began exploring a relationship with Next Step and its network, we lacked crucial logistical and financial links to speed connections to potential customers. Our goals for leveraging off-site building techniques to deliver custom-quality homes at affordable prices sync perfectly with Next Step. Now, as those goals are increasingly within reach for both Next Step and our company, we look forward to expanding our partnership."
— Bruce Tolar

Community Housing Improvement Program (CHIP)
"The destruction of over 14,000 housing units in the Camp Fire greatly exacerbated our region's affordable housing crisis. After nearly two years, we are still seeking solutions to house displaced residents. We believe that by partnering with Next Step we can quickly bring back quality housing and provide a model for other communities rebuilding in the wake of disasters."
— Seana O'Shaughnessy, President and CEO

Trellis
"The city of Phoenix, like so many other municipalities and communities across the country, has a growing need for more affordable homeownership opportunities. Trellis has convened a diverse group of local and community stakeholders who are invested in addressing this challenge. By using factory-built homes – and leveraging Next Step's expertise in this space – we're reducing development costs and bringing more value to the city and to both future homeowners and community members."
— Glenn Karlson, Development Manager

Board of Directors
Sheila Rice, Chairperson
Damon Allen, Vice-Chair
Kim Vermeer, Secretary
Jeff Stern, Treasurer
Jay Arneja
John Gillespie
Kathryn Gwatkin Goulding
Emanuel Levy
George McCarthy
Clemente Mojica
Barry Noffsinger
Billimarie Robinson
Robin Roy
Lanalle Smith
Lauren Williams
Frank Olson, Director Emeritus
Douglas K. Smith, Director Emeritus
Funders and Supporters
Clayton Homes Foundation
Fannie Mae
Kentucky Housing Corporation
NeighborWorks America
Rexel Foundation
Freddie Mac
Credit Human
Key Partners
Clayton Homes
Deer Valley Homebuilders
Down Payment Resource
eHome America
Franklin Homes
Prosperity Now
ROC USA
Tennessee Housing Development Agency
Skyline Champion Corporation
2020 Individual Giving
AJ Matheny
Alice Antonelli
Allison Ridenour
Amy Barnard
Angela Hagan
Aria Elizabeth
Ashley Evans
Ashtan Moriarty
Austin Mayberry
Barbara Epperson
Bennie Garland
Billie Wells
Bill Packer
Bruce Christian
Carson Nicely
Chona Camomot
Chris Nicely
Cindy Hester
Dalan Courtney
Danielle Childers
Dave Betler
David Dangler
Dino Pejkusic
Doug Dylla
Doug Ryan
Emanuel Levy
Erin Whaley
Frank Olson
George McCarthy
Grant Beck
Jan Forren
Jeff Stern
Jenna Haugen
Jessica Lawrence
Jim Buckley
John Gillespie
Joni Werthan
Kelly Arevian
Kelly Fleck
Kevin Thompson
Kim Vermeer
Lauren Bocci
Lauren Roth
Lesley Tannahill
Lori Nicholson
McCauley Adams
Megan Sherehiy
Michelle Roeder
Next Step Anonymous Donations
Patrick Curry
Paul A. Barretto
Rob Bergeron
Robin Roy
Roger Crain
Roman Melendez
Sarah Gerecke
Sheila M. Rice
Shelly Trent
Stacey Epperson
Stacey Roberts
Tiffany Cardwell
Tootie Larios McCarthy
Travis Spradlin
Audited Financials