2019 2019 2019
President's Message
Dear Next Step Partners and Supporters,
Ordinarily, our annual report is an opportunity to reflect on Next Step's accomplishments of the previous year and take stock how we can further apply our vision and mission to advance affordable housing opportunities.
However, we find ourselves – like all of you – in extraordinary times.
The ongoing impact of the COVID-19 pandemic has forced us to take pause to better examine the present reality of housing in our American communities. We entered this pandemic with a woefully short supply of housing and an even more critical need for affordable housing. A lack of innovative thinking has contributed to this shortage. Neither single-family, site-built homes nor dense high-rise rental units are meeting the need for housing that working families, seniors and residents with permanent disabilities can afford. We can no longer afford languish in outmoded thinking and wait for the next crisis to cause further harm the health, safety and economic well-being of vulnerable populations.
Now is the time to embrace new thinking in how we approach housing in America, so that we are better prepared for what comes next and build healthier, more inclusive communities.
While all sectors of philanthropy, nonprofit, government, and business must address the immediate fallout of this crisis, we know we will emerge from this pandemic stronger – and with many more challenges ahead. Housing is a human right. Now is an opportunity to investigate, evaluate, educate and prepare for our emergence from these challenging times. We can take this time and work together and build coalitions, anticipate needs, and align resources. We are committed to emerge from this crisis better prepared to address the housing and community development needs of our country.
We also must commend the tremendous efforts of our network members and partners. Many of our network members are on the frontlines of this healthcare and economic crisis, working in their communities to support individuals and families bearing the brunt of the impact caused by the spread of COVID-19. We are continually inspired by the stories we are hearing from you, and we stand ready to support the pressing housing and community development needs – both now and in the future.
Our network's work is impossible without our supporters. Your contribution furthers our mission of putting sustainable homeownership within reach of everyone. We invite you to make a donation to Next Step at https://www.justgiving.com/nextstepnetworkinc.
Let's come together now and build the foundations for the future of better housing to make the world of housing work for everyone.
Sincerely,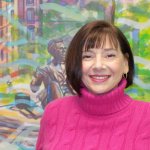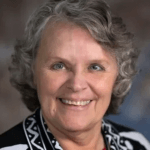 2019 Key Accomplishments
SmartMH Program Expansion –
In 2019, Next Step continued the expansion of our SmartMH program – a partnership with Freddie Mac that connects qualified homebuyers with financial institutions and manufactured home retailers to increase access to affordable, ENERGY STAR® manufactured homes with fair financing. The expansion adds Texas and Mississippi to the group of states where the program is fully implemented. Learn how our member organizations are working to support home buyers through SmartMH!
Housing and Community Development –
In an effort to bring more affordable homeownership options to communities across the county, we continued our work to place more affordable, high-performance, energy-efficient homes. From San Bernardino, California, to Danville, New Hampshire, factory-built homes are giving hard working individuals and families to opportunity to own a home – and build wealth and equity in their home.
Our efforts to improve energy-efficiency in homes as also paying dividends – particularly in our home state of Kentucky. Since 2015 (when our SmartMH program first began) our network has helped drive a 17.5 percent increase in the market share for ENERGY STAR homes.
We've also worked to directly empower prospective home buyers with the education and resources they need to make their best finance and purchase decisions. In 2019, we re-launched our website to provide education directly to prospective buyers, and put in place tools – like our TotalHome+ Calculator – to support them in their home buying journey.
Factory-Built Housing Research –
Next Step is working to remove the stigma around factory-built homes, providing original research to prove that they provide a sustainable, affordable, and energy-efficient homeownership solution. We published two white papers with our partners at Clayton – Shedding the Stigma: The Value of Manufactured Homes and Off-Site Built Homes: An Evolving Industry that Meets Today's Affordable Housing Needs – focused on presenting factory-built homes as a means to support current (and future) housing needs in America.
Our 2019 Impact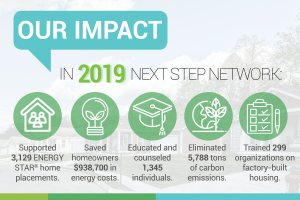 Housing and Community Development
New Hampshire Community Loan Fund –
Residents of Rock Rimmon Cooperative – a resident-owned manufactured housing community in the small town of Danville, New Hampshire – have welcomed their new neighbors.
On August 15, New Hampshire Community Loan Fund held an event to celebrate the first residents that are a part of their Veterans FIRST program – an initiative focused on providing sustainable, affordable homeownership opportunities for veterans. The event brought together key program partners, including the board of the Rock Rimmon Cooperative, to celebrate the new residents of the community. Congressmen Chris Pappas (D-NH) was among the day's speakers, and attendees were able to take a tour of the newly placed 500 sq. ft. manufactured homes.
Neighborhood Partnership Housing Services –
In one of the most expensive housing markets in the country, California residents – particularly low- and middle-income families – are being boxed out of the housing market. Without access to affordable homeownership options, these individuals and families are less able to build wealth and increase their economic opportunity. Off-site construction may help.
Our Members
New Hampshire Community Loan Fund

"When we began the process of sourcing homes for our Veterans FIRST program, we were challenged with finding a manufacturing partner that would build small, highly energy-efficient, HUD-code homes that would suit the needs of both homeowners and the community where the homes were being placed. When we enlisted Next Step, they were able to leverage their expertise and industry relationships to help us build the partnerships needed to support the program, and meet the housing needs of veterans in our community." Jennifer Hopkins, Director of Single Family Housing

MaineStream Finance (a subsidiary of Penquis)

"The Next Step partnership and membership has been a key component for our lending team at MaineStream Finance to become comfortable enough and educated enough to begin lending for manufactured housing. Through their lender's peer group and through a NeighborWorks-sponsored Learning Community, they have provided us resources, benchmark data, and introduced us to major players in the industry that we would not have encountered on our own. We're excited to see what more we can learn from Next Step and hopefully contribute back in the near future to other CDFIs like us interested in manufactured home financing." Chris Linder, CEO

Board of Directors
Sheila Rice, Chairperson
Douglas K. Smith, Vice-Chairperson
John Gillespie, Treasurer
Frank Olson, Secretary
David Dangler
Kathryn Gwatkin-Goulding
Emanuel Levy
Jeff Stern
Damon Allen
George McCarthy
Robin Roy
Kimberly Vermeer
Funders and Supporters
Ashoka
Clayton Homes Foundation
Fannie Mae
Freddie Mac
Kentucky Housing Corporation
NeighborWorks America
Republic Bank
Rexel Foundation
2019 Individual Giving
Chris Nicely
Dave Betler
Frank Olson
Jeni Ware
Kathryn Gwatkin Goulding
Kelly Fleck
Megan Sherehiy
Stacey Epperson
Audited Financials